n 1975, a startling event took place while Patricia Mischell was praying for world peace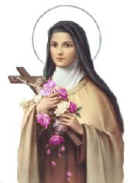 along with her monthly prayer group. After reading a passage from the Bible, the group began their usual meditation when suddenly they noticed Patricia was in a deep trance state. To her amazement, she awakened three hours later and was told that a woman who had an European accent spoke through her stating that she was Sister Therese` De Lisieux, "The Little Flower."

Sister Theresť was a Carmelite nun who Lived in France in the 1890's. Sister died on September 30, 1897 at the age of 24 from tuberculosis. She was canonized and declared a Saint in 1925.

Sister was asked by the group why she had chosen Patricia through whom to communicate? Sister replied, "I came to Patricia before Patricia's birth and I asked her soul's permission to be a part of her life when the time would come when I would need Patricia to do God's work in the earth."
Sister Theresť continued visiting the group of twelve people monthly for several years. During her visits she would instruct them to pray for World Peace. Sister would tell the group to of upcoming events that would bring havoc to the earth. She would ask that the group to pray concerning these events so there would be a good outcome.
Sister also told the group that Patricia would write a book and it would be known around the world. Patricia's book Beyond Positive Thinking was written several years later. Two publisher's bid for her book. Prentice-Hall purchased her book and then it was published by Simon & Schuster. Her book has also been published in German and has been sold in ten foreign countries.
Sister Theresť began her real mission on July 15, 1988 at The Positive Living Center. It was here that Sister Theresť spoke to a large audience on a weekly basis for several years. At this time Sister said she was here to "Complete her Mission for God." Through her many messages of Hope, she gave overwhelming information on future events concerning the world, ecology, economy, world leaders, coming events around the globe, Angels, Evil, God, Teachings of God & Jesus, Why she has come back into the world to speak to us, Aids, who, where-and-what God looks like and so much more.
During these events she brought special individual messages and blessings that have continually proven to be accurate, and healings that have astonished even diehard skeptics. Among the many people blessed, was a woman in the audience asked for financial assistance to take a much wanted trip to Egypt. Sister blessed her and told her the trip would be made with the assistance of two people who were also in attendance. This woman was able to go on her trip when two people paid for it in full with no obligation for her to repay the trip's cost. Another woman in audience asked for a special blessing on a small apartment that she and her two children just moved into. Sister blessed her and told her not to settle there, because the angels were preparing a place for herself and her children elsewhere. Three days later this woman heard from the owners of a house she had been interested in six months earlier but was unable to purchase at the time. They offered her the house at a reasonable price and she has since moved into her new home.
Sister said that when she went to Heaven she promised to spend her Heaven helping people in the earth. Sister said, "I have come to the earth to bring HOPE to a world that needs it and I am doing this through Patricia Mischell."

Sister said, "My greatest desire in life, my friends, is to build the 'Temple of God' into the hearts of all the souls in the earth. To let God's face shine upon all of your faces so that when you look into the eyes of one another you will see god's eyes smiling back at you."

Sister said that one of her greatest missions was to see that the "Prayer of Peace" was to be prayed everyday by people all over the world. This prayer was given on July 15, 1988 at the Positive Living Center. It is the same prayer which a "Radiant Being" called the 'Angel of Peace' gave to the children of Fatima, in Portugal in 1916. Sister Theresť asked that all of us pray this prayer daily for PEACE in the world.



Prayer of Peace

Dear God,
I believe in You God.
I adore You.
I have Hope in You,
and I love You.
I pray for the pardon of those who do
not believe in You,

who do not adore You,
and who do not love you.

So be it!


We know that you will enjoy Sister's tapes and the messages. Her moments of humor, mixed with laughter certainly set the tone for a wonderful experience as you listen to sister's messages filled with H.O.P.E., love, and caring. We know that after you listen to just one of her taped messages, you will love her as all of us have come to love to her.

A complete list of all teachings and prophecies are available on cassette tape and/or written transcript. Please ask for the Sister Theresť Cassette Tape Catalog.

For more information about Sister Therese's audio taped messages & books click here!
For more information about Sister Theresť, please read the book, Story of a Soul, The Autobiography of St. Theresť of Lisieux, by John Clarke. This book is available in Sister's Mall area. We only have provided you with just a few of her cassette tapes at the present time. Ask for St. Theresť Cassette Tape Catalog by email patricia@patriciam.com or call Patricia's office 513-563-1744 for samples of Sister Therese's work channeled by Patricia Mischell.
Hope Ministries

A Non Profit Organization

Copyright © 2000 Patricia Mischell & The Positive Living Center

All Rights Reserved
Rose Prayer Garden | Flowers from Heaven | Special Invocation | How it all Began | What is A Trance | Message from Saint Theresť | Patricia's Message about St. Theresť | Documented Miracles | St. Theresť in the Media | Feed the Hungry